Make a Difference Day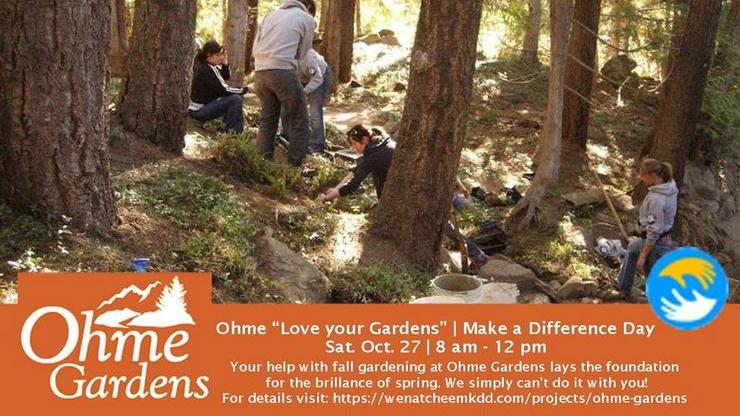 Do you love working in your garden? How about contributing to an 89-year-old legacy? Never before has your contribution been more important to Ohme Gardens. We will be celebrating Ohme's 90-year anniversary in 2019 with our community. We need you!

Your help with fall gardening (wedding and deadheading) lays the foundation for the brilliance we see at Ohme in the spring. Your contributions count!

Ohme "Love your Gardens" | Make a Difference Day
Saturday. October 27 @ 8:00 am – noon (arrive by 8 am for orientation)
3327 Ohme Rd, Wenatchee
Great for individuals, families and groups
Every skill level is invited (Ages 16 years and up)
Refreshment and goodies will be provided

Please bring work gloves. For information call Jason Browning, 662-5785 or email info@ohmegardens.org.

Our Main Project will be prepping the soil for new plantings featured in our newly enhance Entrance Lawn view of the majestic Columbia River and Wenatchee Valley. We will be clearing and cleaning up the current vegetation and prepping the soil for plantings in the spring!

We will also have additional garden care projects such as deadheading, pruning ferns, and trail projects.

Please join us in this important work as we prepare the Gardens for our 90th Anniversary Celebration in 2019.